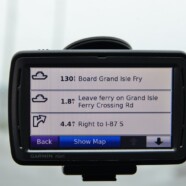 Jun

20
Tags
Related Posts
Share This
Vermont
I was on my way to Niagara Falls from Maine, after an overnight stop at Burlington, Vermont. I started late from Acadia and simply wanted to reach Burlington before it got dark. It was a good 8-hour drive. There's not much to write about this trip, although, there was one dumbfounding moment.
My hotel was located along the Vermont and New York (state) border – on the New York side across the Lake Champlain. As I approached the border (just 9-10 miles away from my hotel), I was expecting a bridge across the Lake Champlain. It is a very long, very thin lake. So, a bridge would (should) have been built across it. Now, my GPS surprised me with some new type of directions. Instead of asking me to go straight or left or right (or even turn back in a U-turn), it asked me to board a certain ferry. Clueslessly, I continued driving closer and closer to the lake. I came across a gate, which looked like a toll both. I asked the old man there what the hell is going on. How will I cross the lake?? How will I reach my hotel and crash in the bed after this tiring 8-hour long drive? He smiled and said, "Don't worry. We get rookies like you every day. Just take this $10 ticket and board that ferry over there. It will take you and your car across the lake". Much relieved, I hopped on to the ferry and within a few minutes I was on the other side of the lake. J
It rained heavily towards the end of this trip to Vermont. I wanted to do a tour of the Ben & Jerry's factory in Waterbury, but too bad I couldn't. I want to visit Vermont again during the colorful fall foliage time sometime in the future. I'll do the Ben & Jerry's tour then.
P.S. The hotel in Vermont had TV which showed French Canadian reality shows – they were quite hilarious. People quarreling in French sound very polite 🙂