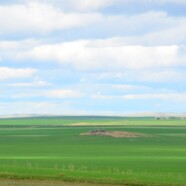 Jun

30
Tags
Related Posts
Share This
Midwest (WI, MN, ND)
I call this stretch – "the meat of the Midwest". It was by far the toughest part of my roadtrip. My body held up fine over a couple of weeks of driving, but by now the mind needed some rest. But, I was already more than half way through my journey across the country. I could not even turn back or call it quits. I had to continue.
The sameness in the scenery all along Wisconsin and Minnesota made me anxious and bored. To create some distraction, I started listening to audiobooks – yet I could not concentrate very well on my driving. Luckily, the traffic was minimal, so the chances of any mishap occurring were really low. 
I stopped by Madison, Wisconsin for a day. I met my bschool classmate Qing and his wife, Yongyan there. Qing went to Univ of Wisconsin, Madison for undergrad and showed me around the campus. We went to State Street Brats, which is famous for its bratwursts. I had two infact! They were that delicious. The university campus is beautiful too. It is right next to a lake and on a Saturday evening it was quite lively. The local Babcock Hall Dairy Store, inside the campus, had some tasty, creamy ice creams too.
Minneapolis was extremely rainy during the day I spent there. I was also quite tired – mentally and badly wanted a break. I didn't mind the rain because of that. The city looked nice though with a bunch of lakes scattered across it. I wish my friend Nirmal, who is from Minneapolis, was around. Too bad he was on vacation. (K, if you're reading this, you'd be also happy to know that I played the entire playlist of your favorite Dire Straits songs while I was driving through MN J
In North Dakota, I stayed in this little town called Bismarck. ND has a sizeable population of people of German descent. Hence, many cities are named after German people or things. The stay in Bismarck was nothing special. It was a good place for a pit stop to get my car's engine and tires checked. ND doesn't get much tourists either, so the locals seemed quite happy and welcoming to see me. What I liked most about this state though was the scenery. It was truly like a light at the end of the tunnel (aka rest of the Midwest). The lovely, lush green prairies are a great sight for any scenery lover. Each green farmland almost looked like it has been meticulously landscaped with different shades of green and yellow and has been carefully mowed to look like a giant velvet carpet. I talked to a couple of local motorbikers at a rest area and got some tips on where should I stop to take some pictures off the freeway. Their suggestions were great, although I always felt that somehow the fields on the other side of the freeway are prettier.. haha. Anyway, have a look at the gallery below for pictures of the prairies, the short stretch of barren badlands, the first sight of snow at the Montana border and rest of the Midwest.
There's one last thing to talk about Midwest. And this has to do with skipping timezones. I love skipping time zones while driving from the east to the west. It gives me a thrill when I "save" an hour in my clock. The day seems longer and gives me a sense that "oh, I have another extra hour and I should make the most of it".