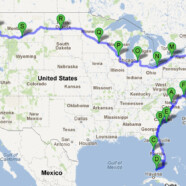 Jul

07
Tags
Related Posts
Share This
Back home!!
Sometimes the lights all shining on me
Other times I can barely see
Lately it occurs to me
What a long strange trip it's been

 

Truckin' I'm a going home
Whoa, whoa, baby, back where I belong
Back home, sit down and patch my bones
And get back truckin' on

 

– "Truckin", Grateful Dead
That's exactly how I feel now. It's been a day of rest since I came back to my new home – the Bay Area. And the more I think about the last month, the lines "What a long strange trip it's been" echo in my head. I still can't believe it's over. I will miss those moments of insanity – the impromptu swim in Key West, waking up at 4 am to catch the sunrise in Maine, pulling over the freeway in a split second to take pictures (at several places), cruising through the countryside… I can go on and on doing this.
Some numbers from the trip…. Covered 9200 miles (14800 kms) in 35 days (27 days driving, 8 days halt). Consumed about 380 gallons of fuel. One flat tire incident (no other problems with the car). Took 3740 pictures (finally used only 260). Went to McDonalds for only 2 out of 100 something meals.  Lost 8 pounds last month (yay!)
Not that I was chasing records, but somehow, after these four cross-country trips over the last two years, I covered all the mainland US states except OK and AR. That's probably something I can brag about a bit 🙂
Finally, many many thanks to my family and my friends who supported and inspired me during this journey. I couldn't have done this without you.