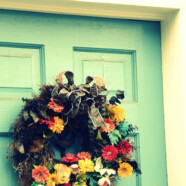 Jun

07
Tags
Related Posts
Share This
Charleston, SC
While I was in Key West, the Florida sun shone in its full glory and parched every thing under it. The heat and little bit of humidity was enough to form a thick cloud cover as my stay came to an end in Key West. On my way out of Florida, I encountered torrential outpour, such that the visibility on the road became really low. All the cars and the trucks had to stop in the rest area before any progress could be made in our respective journeys ahead. After a good 3-4 hours delay, I finally managed to reach Charleston in South Carolina around late evening.
There wasn't much time left to do much in this little town that evening. Luckily, I stayed right in the heart of the historic downtown district, so I could still walk around in the twilight and get a taste of colonial history in Charleston. Talking about taste – this was perhaps my last stop in the South and I decided to try some Southern cuisine for the last time. It would probably be a while before I visit this part of the country. So, yeah, I looked around to see if some nice Southern restaurant is still open on this grey, rainy evening. A block away from my hotel, I stumbled upon "Poogan's Porch"( Yelp) . Poogan is the name of the cute, little terrier dog, which the restaurant owners had in the early 70s. The owner's old style, colonial house was converted into this restaurant and the locals loved their Lowcountry cuisine. After tasting Shrimp and Grits during my friend Ted's wedding, I developed a huge craving for grits. While that was the entrée, I also got me some Fried Alligator Salad with sweet Southern style iced tea. "Poogan's Porch" has a really friendly staff, who gave me several tips on what all to check out in Charleston. Their food and service was amazing and was a good testimony of the famous Southern hospitality. On my way out, I saw some picture framed autographs from celebrities who have visited Poogan's before. My favorite one was this one by Jim Carrey. He is so funny always 🙂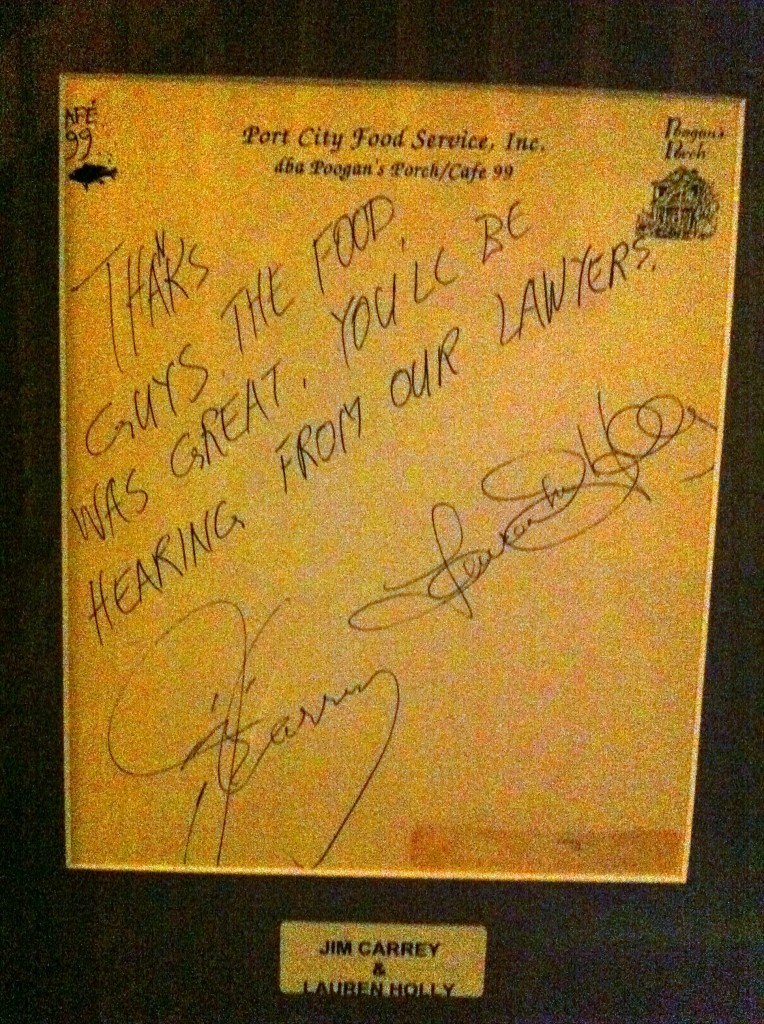 There was very heavy rain in Charleston the next morning. A few streets got water logged and I was a bit afraid that my plans would get dampened. Luckily, the rain stopped around 10 am, and I went on a walking tour. Charleston is quite similar to Savannah in several ways. Both these little towns have a low skyline, with the spires of the several quaint churches peeping out towards the sky. Charleston has several beautiful houses built in the 1800s by the colonial plantation owners who settled there.
A couple of friendly locals told me some interesting stories about the houses and the history of the town in general. One of the old gentlemen was especially proud of Charleston colonial past and how it was a bustling commercial hub back in the days. His old female friend was quick to point out that the port of Charleston was also the main dropping point for Africans captured and transported to the United States for sale as slaves. The old man cleared his throat and hinted his friend to not to go into too many details about the dark side of the town's past. Later that day, when I met my cousin and brother-in-law in Newport News (Virginia), we talked about how the documentation of a place's history can be dicey sometimes. And this can be true for any part of the world. Most of the ancient Indian history that we read today is an interpretation of what Alexander and his Greek homies noted down. I believe since they could not speak the Indian languages, they were, probably, told a version of the history by the locals there. Who would have touched upon the glory of the Indian empire and carefully covered the not-so-pleasant details. Again this is my point of view.
I left Charleston around lunch and drove through the Virginia backcountry on my way to Newport News, Virginia. This was one of the best drives so far in this trip. I somehow felt "in the zone". It's that feeling you get when you're in full control. You're driving fast, yet not violating any speed limit rules. You're driving safely, yet you're nimble enough to ghost past the other cars on the road. You're steady and quick enough, such that you feel that you're floating on the road with minimal effort and your eyes are alert enough to anticipate the next sharp turn. And what's more, the backdrop is the lush, back country greenery of rural Virginia. Great, peaceful feeling!
Here are some pictures I took in Charleston.