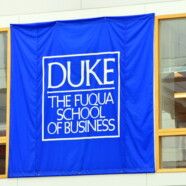 Jun

02
Tags
Related Posts
Share This
Durham, NC
Yesterday, I began my Four Corners roadtrip. I left Durham around 4pm. Before leaving, I visited school – once for the last time. It still hasn't hit me that I have graduated. Part of me still feels that these next few weeks are just another mid term break, time for another roadtrip and then I will be back to school again.
At school, I took some pictures of my favorite, memorable places in the campus. Here are some shots, which I took.
I left Durham with mixed feelings. To borrow a line from Kerouac's "On The Road" – "…. at the dividing line between the East of my youth and the West of my future." Although, when Sal Paradise (the protagonist in the book) said this, he was already halfway through America. I left Durham for my first stop – Savannah, Georgia.
While on the way to Savannah, I cranked up my music library loud on my new iPod classic 160 GB. (Sorry to diverge, but it feels extremely nice to have your entire music library on one single device.). As the iPod shuffled through the songs, one of my favorite roadtrip songs started playing – Janis Joplin's "Me and Bobby McGee". The words "freedom's just another word for nothing left to lose" always strike a chord with me (especially when this song plays while I am driving). At the beginning of every cross-country roadtrip, I have felt excited and ambitious about the final destination of the trip, but also felt a little bit of anxiety about what if something goes wrong. But then I realized, that if something goes wrong, then at least it would happen while I am doing something I really enjoy doing – driving long distances through the nature. I felt I have nothing left to lose. And as that song's lines suggested – the other word for this feeling is "Freedom".
As I left Durham, I played some of my favorite goodbye songs. I will leave you with a couple of those.