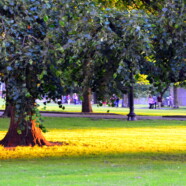 Jun

15
Tags
Related Posts
Share This
Boston
Among all the cities I visited in the East Coast so far, I liked Boston the most. It has a distinct, classy look. It is cleaner and less crowded than New York. It has a rich history and that's why every street corner has some story hidden in it. The people are very friendly too. In them, I saw a good mix of intellect, open-mindedness and cool, laid back attitude. Reminded me a lot of Calcutta.
I reached there early evening and took the subway to the Downtown Crossing station. I was going to meet Joe (my former roomies from San Diego, who moved back to New Hampshire a few years ago) and his girlfriend, Natalia. While waiting for them, I caught the sunset and did some people watching at Boston Common – the large park near downtown, aka Boston's answer to NYC's Central Park.
A quick note about Joe – he was my first roomie when I landed fresh off the boat in San Diego. I got into a number of activities because of Joe – hiking, pub trivia, Robot Chicken, air guitaring, brewery tours etc. to name a few. Perhaps the biggest influence was his story of a cross country roadtrip that he did from Boston to San Diego. That time, I thought how cool would it be to do such a roadtrip. Since then, I did three and this one is the fourth.
Joe studied in Boston before, so knew the city really well and took us to La Voille on Newbury St for some French cuisine. We of course reminisced about the "golden" San Diego days. After dinner, we went to the 50th floor of Prudential tower near Copley Square. We enjoyed the view of the Boston skyline at night over some Godfather, a scotch and amaretto drink served on the rocks (a drink Joe loved ordering for me back in San Diego).
Next morning, I went on a walking tour around Boston. Fortunately, I landed in a very small touring group – this makes it easier if you have questions and also, want to make friends with the fellow tourists. I met an Australian couple from Melbourne. Both of them happened to be statisticians. So we hit it off (haha!). Our guide was very jovial and had a great sense of humor. He was very knowledgeable too. He had an audience hailing from different former British colonies. So, he picked lots of stories from Australia and India and showed how they are connected to Boston's history. I got a fun piece of trivia from him about a businessman called Frederic Tudor, who made a fortune by shipping ice from Boston to Calcutta in the 1800s. Each ice shipment took four months to deliver to Calcutta. I wonder how they managed to do that, especially in those days.
Our tour started from the Boston Public Library, as we walked through Beacon Hill. This historic district in Boston is lined up with old, brown stoned buildings covered by a canopy of trees. Beacon Hill is where Boston's elite lived. Interestingly, this group of intellectuals was called "Boston Brahmins".
The Boston walking tour was a good capstone for the tidbits of American history I picked up on my roadtrip along the East Coast (especially in Charleston and Savannah). The tour ended outside the Quincy Market, through the Freedom trail (which had several sites of historical importance, such as the Boston Massacre site). Once the tour was over, I walked along the Waterfront and caught a glimpse of harbor. I strolled back to Downtown via the Charles river under the sun and rewarded myself with some fish and chips for lunch at Legal Seafood.
I'd definitely love to visit Boston again. I spent a day and a half there, but still feel that there is a lot to see and experience in this city. My next halt was in Portland, Maine for the night. On my way, I met Joe and Natalia for dinner at Hampton Beach in New Hampshire. I hope I get to see these two soon.
It was a long, tiring day with lots of walking involved. I couldn't wait to get some sleep in Portland. I could not sleep properly though. I was excited about the next couple of days in Maine. Lobster meat.. here I come!!